As new content is added to this website, it will eventually be added here.
General Info
index.html
Home Page of Let There Be Night

results.html
Results of the community-wide LTBN science experiment

whatsnew.html
News, upcoming events, publications, and new media related to Let There Be Night.

podcast1.mp3
Podcast aired on 365 Days of Astronomy introduces Let There Be Night.

Brochure 08-10-28.pdf
Tri-column brochure introduces Let There Be Night.

orion.html
Orion the hunter in various starfields

sci-method.doc
How LTBN specifically addresses the scientific method.

team.html
Student Leadership Teams from each of 14 schools study light pollution in-depth and create LEGO model of the experiment results

brighter.html
Illustration shows how much brighter sky glow is with each decrease in limiting magnitude

LTBNhighlights-May2009.pdf
Highlights of the LTBN program through May 2009

2009 International Year of Astronomy (IYA2009)
iya.html
Introduction to IYA2009

galileo.html
Key observations by Galileo that changed the world

secondlife.html
Second Life simulation with Galileo's villa courtyard and an interactive modern street scene
(Not Just For) Planetariums
pltm.html
Introduces Let There Be Night DVD and online resources for multiple users, with emphasis on the planetarium community

dvd.html
Details of the contents on the 2-disc set with links to some content.
To purchase the 2-DVD set, see the GLPA Online Store.

dvd-open.html
Okay, so how do you access the oodles of additional files on Disc 2, which is a DVD ROM containing five videos on the main menu plus many folders within the disc? See this.
For Teachers
teachers.html
Both overview and details of what the role of teachers will be in the classroom. Links include activities, teacher packets, questions for consideration, Indiana standards, teacher in-service schedule, and IDA Tools for Teachers.

"LTBN Analysis" handout in 4 PDF files delivered to each 3-8 teacher:

3 Key Documents for Teachers

Six Magnitude Charts against which students will compare their backyard view of Orion.
Student Recording Form on which students will record each night the number of the Magnitude Chart that matches their night sky.


SQM-school_recording_form.pdf
Recording form on which the Student Leadershiop Teams record the nightly SQM reading from school grounds.

turtles.html
Activity has students simulating turtles hatching on a beach in the presence of light pollution.

heavens.html
Activity has students draw their impression of night sky highlights to show what's at risk.

blocks.html
Activity shows how much of the night sky we have already lost using a model made of LEGO blocks.

maglite.html
Activity uses toys and a flashlight on a town mat to show how shielding eliminates glare, light trespass, and sky glow.

Jenny McCarthy's overhead projection with Orion punchouts (with sample student art);
(Not Just For) PHM Families
families.html
Describes the role of PHM students in grades 3-8, offers links to student project ideas, and introduces the Student Leadership Team.

projects.html
List of ideas for science fair projects, competitions, and academic fairs, relating outdoor lighting issues to local community situations.

team.html
Student Leadership Teams from each of 14 schools study light pollution in-depth and create LEGO model of the experiment results

phm.html
Interactive map of PHM school district that links to the respective schools

Events at the respective PHM schools:

student-fireflies.html
A student project addresses the apparent loss offireflies.

student-littledipper.html
A student science fair project asks, "Is light pollution affecting the way we see our night sky?"

student-shielding.html
A student science fair project suggests light pollution is lessened when outdoor lights are shielded.
Supporters of Let There Be Night
support.html
Lists the companies, organizations, and individuals who value the night enough to make a stand in defense of darkness.

Hear the Podcast: Let There Be Night is featured on the "Gosh Dim It All!" podcast, which was broadcast by the New Media Working Group of the International Year of Astronomy 2009. You can also find it and daily astronomy podcasts at 365 Days of Astronomy. Scroll down to (or find in the Archives) the podcast for Sunday, January 18, 2009.
---
DVD World Premiere
At the Let There Be Night DVD world premiere on November 9, 2008, guests viewed excerpts from several videos and watched the feature presentation with Galileo and Hypatia in its entirety. Bob Hayden, General Manager of Jordan Toyota, presented a $10,000.00 check to PHM Superintendent Dr. Jerry Thacker to support production of the DVD.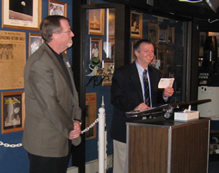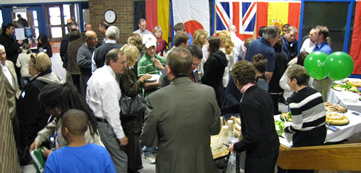 To see TV news broadcast of the event, click the camera icon next to "Planetarium fights light pollution" at www.fox28.com/global/story.asp?s=9319293.
Flyers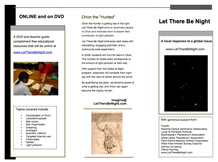 Tri-column brochure introduces Let There Be Night.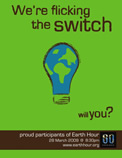 New Earth Hour Poster (left) is available for participating Earth Hour sites.
---
Poster at 2008 Astronomical Society of the Pacific (ASP) Annual Conference announces two components of Let There Be Night: a DVD featuring the planetarium program and other dark sky resources, and the community-wide experiment to quantify sky glow. Poster is available as a large Powerpoint slide.